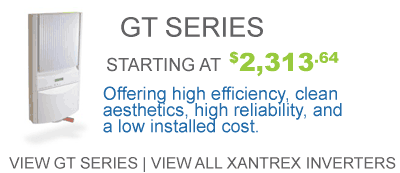 Xantrex Solar Inverters
GT Series Grid-Tie Solar Inverter
The Xantrex GT series grid-tie inverters offer outstanding energy harvest in a small, modular design. Available in 2.5kW, 3.0kW, 3.3kW and 3.3kW 208-volt models, the performance string inverters offer high efficiency and high reliability. NEC-compliant AC and DC lockable disconnects make utility interactive installations easier. NEMA 3R inverter enclosure allows for outdoor and indoor installations. The wiring box can be separated from the sealed inverter, allowing DC/AC connections to remain intact. Excellent thermal performance allows full rated power up to 40ºC. Includes lightweight mounting plate. UL listed. 5-year warranty (10-year extended warranty available).
Click here to view all Xantrex Solar Inverters
SW Plus Inverter/Charger
The SW Plus Inverter/Charger comes in three power levels, 2500, 4000 and 5500 watts. They are intended for off-grid and backup renewable power applications. Designed to provide homes with a completely independent power supply, SW Plus models combine an inverter, battery charger, and dual 60 amp AC inputs and transfer switches in one package. The SW Plus provides sine wave AC power for household appliances and DC power to charge batteries. As part of an offgrid renewable power system, it converts all forms of renewable energy into utility-grade household power. With its high surge capacity, the SW Plus can start high power loads such as deep well pumps and compressors. A "Smart Energy Management" system controls utility and/or generator usage. Non-volatile memory keeps personalized settings stored if the inverter is shut down and the new silent mode turns off the battery charger once the charge cycle is complete for longer battery life particularly in back up power application.
Features include forced air cooling, multi-stage charging, control panel and a battery temperature sensor. The SW Plus Inverter/ Charger is one of the very few off-grid inverters that meet FCC Part B specifications. This means there is less chance of noise and interference when powering radio and telecommunications equipment. The Sine Wave Interface (SWI) can be used to stack two SW Plus units for double the power output. All models produce 120 Vac 60 Hz and can be stacked in series for 120/240 Vac output or parallel for double the power at 120 Vac 60 Hz. All SW Plus models are CSA listed to UL 1741 and CSA 107.1. Two-year limited warranty.
Freedom 458
With filtered modified sine wave output, Freedom inverter/chargers run virtually anything from office equipment to household appliances and electronics. Temperature controlled multistage charging
ensures your batteries are recharged quickly, and automatic shutdown and other safety features protect your deep-cycle batteries from excessive depletion. Programmable front panel and LED
indicators. Built-in transfer switch. For advanced battery monitoring and remote control, Freedom 458 systems can be paired with Link instrumentation. CSA listed to UL 458 and CSA standards. 30-month warranty.
Prosine Inverters
Offering quality true sine wave output, the Prosine inverter is ideally suited for electrical systems that already have a quality multistage battery charger. Designed for recreational and industrial applications, its output is capable of handling both heavy duty and smaller, multiple AC loads. A removable LCD display can be mounted remotely for control and monitoring. The powersave mode
draws only 1.5 watts under no load. CSA listed to UL 1741, UL 458 and CSA 107.1. Two-year warranty.