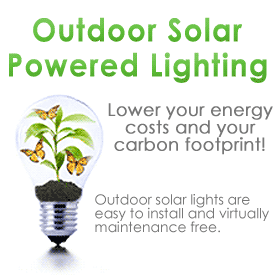 Outdoor solar lighting systems use solar cells to convert sunlight into electricity. The collected electricity is stored in NiCad, NiMH, or sealed lead acid batteries for night use.
Outdoor solar lights are easy to install and virtually maintenance free. Self-contained solar lights require simple sunny placement and quick staking or mounting. Lights with panel wiring can be placed in the shade as long as the panel is installed in full sunlight. The initial cost of the lighting unit repays itself with zero operating costs and free, accessible solar energy.
Solar lighting units vary in size from small eight-inch, red-glowing pathway markers to pole-mounted patio and high-beam security lights. SolarHome.org can help you hone your lighting needs and choose the perfect solar product. Call one of our friendly customer service representatives today at 1-866-SUN-PRODUCTS (1-866-786-7763)
Solar lighting has a wide array of applications, from creating landscape ambiance to illuminating a roadside billboard. Before you choose an outdoor solar light fixture or system, consider the lighting application. Are you trying to provide ambient light for your walkway or yard, or do you need focused, critical lighting to clearly direct residents and visitors to your doorstep? Also, perform a quick solar lighting self-evaluation.
Critical lighting provides strong, direct lighting for applications. SolarHome.org's critical lighting collection includes security lights, flashlights, recreational and back-up lanterns, and marine lights. Independent units.
Non-critical lighting applications require high-voltage strength. SolarHome.org's non-critical fixtures include spotlights, commercial sign lights, billboard lights, streetlamps, floodlights, post lights, and flag lights.
Ambient lighting is primarily used for environmental enhancement. These low-voltage fixtures provide gentle, safe lighting. SolarHome.org's include floating pond and pool lights, garden lights, path and walkway lights, colored LEDs, ornamental lights, patio lights, lanterns, and tiered lights.