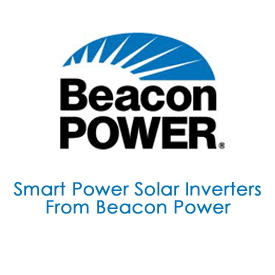 The newly expanded line of Smart PowerTM M-Series inverters is a simple solution for utility-intertie applications with backup power. The four models in the M-Series family use an innovative two-stage electrical architecture to achieve 93 percent peak efficiency. They are integrated charger/inverter systems to combine high efficiency in grid-connected

PV operation with the capability of instantaneous silent backup power.
These inverters have full battery charge-control independent of PV voltage, and thanks to their integrated design, minimize grid-connect power loss and extends battery life. Each model is designed to be used with a 48-volt battery bank of at least 100 amp/hours.

A simple front panel LED display shows system operating status. With simplified programming and data retrieval, flexible operating modes, and intelligent user and wiring interfaces, the Smart Power M-Series inverters are easy to install, set up and operate.

Each Beacon M-Series inverter comes as a fully integrated, single-box solution in an outdoor-rated enclosure containing all necessary ground fault protection, disconnects and circuit breakers. An RS-485 serial communications link with standard RJ-11 connectors allows for connection to a PC running optional Smart Power Monitor software. M-Series inverters come with a standard 5-year warranty. Dimensions are 16"W x 10"D x 42"H. Shipping weight of less than 150 lb. allows for shipment via standard ground and air carriers.
Smart Power M4 – based on the feature set of the highly reliable Smart Power M5, the M4 offers 4000 Watt AC output at an ambient temperature of up to 122°F (50°C) with no reduction in output power.
Smart Power M5 Plus – The new Plus series is enhanced with battery charge from AC grid, an informational LCD Display, internal memory to record daily kWh values for inverter lifetime (non-volatile) as well as event data, flooded battery support, estimated Battery State of Charge Display and flash/field upgradable firmware capability.
Smart Power M4 Plus – same feature set as M5 Plus, 4000 Watt AC output.
Battery Enclosure
The Beacon battery enclosure complements the Smart PowerTM system, with a matching powder-coated steel finish. The two shelves hold up to eight (8) Group 27/31 batteries. It is designed to be rainproof and earthquake-proof (with optional straps), and is available with or without a side-mounted 175-amp breaker. Like the Smart PowerTM, the Battery Cabinet features a simple and elegant design that's quick and easy to assemble and integrate.
Beacon Power PV String Combiner
This is a newly designed, outdoor-rated Photovoltaic string combiner box that offers versatility and functionality in one rugged package. The NEMA Type 4-rated enclosure is weather tight in all positions (vertical to fully horizontal) and the removable, rotatable component mounting plate can be tilted out for easy wiring. The PV String Combiner holds up to 12 input overcurrent devices on a DIN rail that may be positioned vertically or horizontally by rotating the mounting plate.
The combiner can hold 12 CBI® UL-listed 125 VDC PV breakers (recommended for Smart Power 48 volt installations) or 9 DIN rail mount finger-safe midget 600 VDC fuse holders for 13/32" x 1.5" Littlefuse® Type KLKD 600VDC fast-acting fuses for high voltage applications